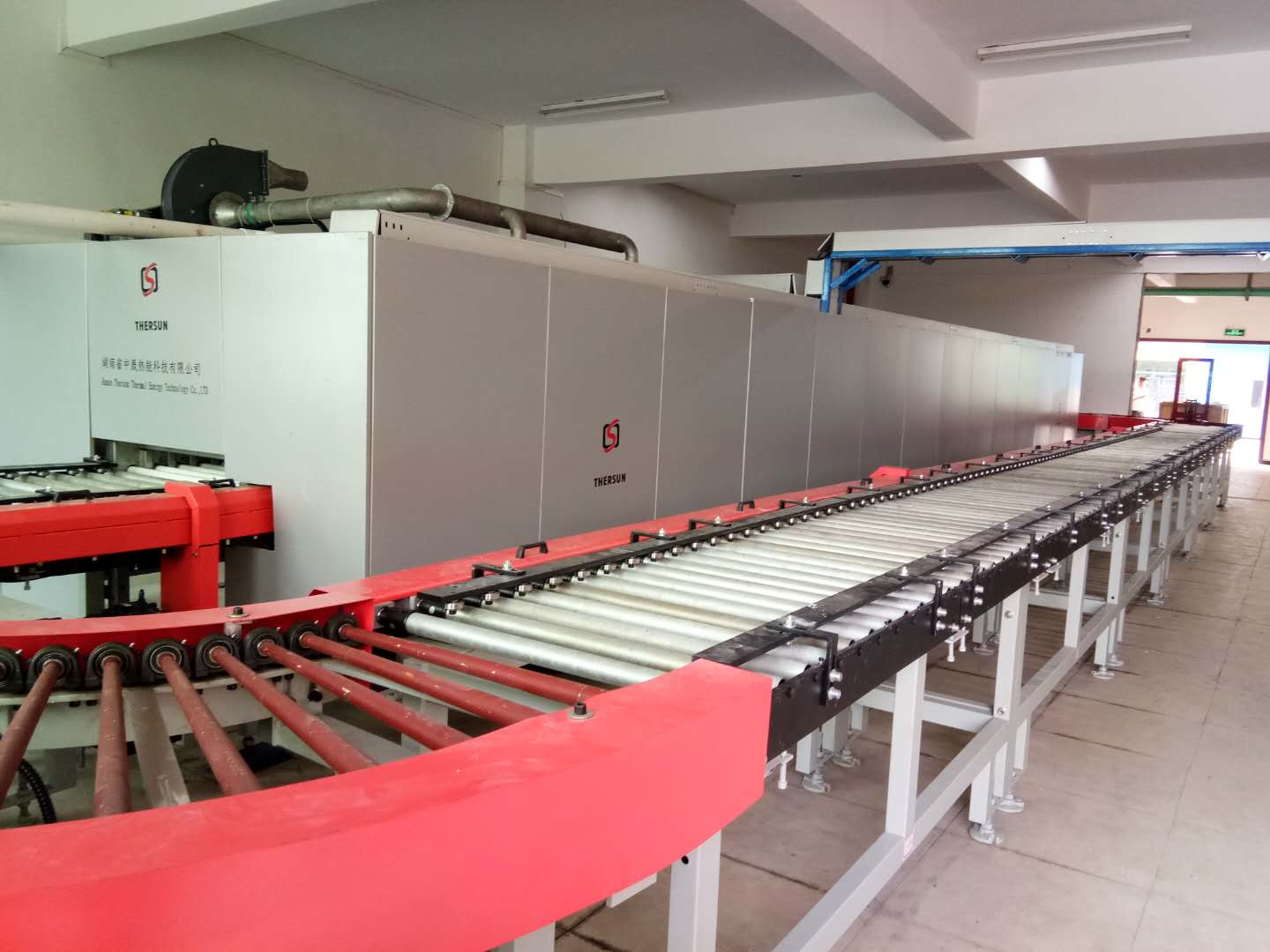 (1) Introduction
RWEG Microwave/electric high temperature roller kiln is mainly used in the firing of powder materials and its products under air atmosphere. It can choose pure microwave heating or microwave/electric heating according to the material's microwave properties. In comparison to the traditional heating equipment, our kiln's structure is simpler, larger in capacity, smaller foot-print, higher efficiency and quality. It also can save energy over 40%.
(2) structure
RWEG Microwave/electric high temperature roller kiln consists of microwave attenuators, microwave/electric hybrid heating zone, microwave heated soaking area, quenching zone, slow cooling zone, rapid cooling zone, ventilation system, feeding device, discharging device, 90o bending devices, transmission line, electric control system, temperature control system, microwave feeding system, etc.
(3)Main technical specifications:
Length: customize
No. of section: customize
Cavity interval: 2000mm
Inner width: 500 - 1200mm
Inner effective width: 400 - 1000mm
Cavity outer width: customize
Inner effective height: customize
Roller interval: 80 - 120mm
Roller speed: adjustable
Transmission mode: 45o helical gear
Transmission reducer: customize
Kiln furniture size: customize
Loading height: customize
Net Weight (crucible + material): customize
Number of kiln furniture: single or double rows
Size of ceramic roller: 40-80mm
Output capacity: customize
Maximum working temperature: 1300oC
Peak temperature: 1350oC
Temperature control: Automatic
Temperature measurement: main body: thermocouple; local: Infrared pyrometer
No of microwave generator: customize
Single microwave generation power: 1.5kW
Installed microwave power: customize
Installed heater power: customize
Power supply: Three-phase five-wire / 380 ± 10V / 50Hz
Water temperature and quality requirement: hardness ≤ 60mg/L (CaCO3) and comply standard of GB10067.1-2005
Cooling water flow: customize
Pressure of circulating cooling water ≥ 0.15Mpa
Microwave leakage level: Comply standard of GB10436-89
(4) Application fields:
? Firing of magnetic materials
? Firing of battery materials
? Firing of electro-ceramic powders
? Firing of other material, such as daily porcelain, sanitary porcelain, etc.
(5) Typical case
Through microwave heating, manganese carbonate can oxygenolysis into manganese tetroxide.